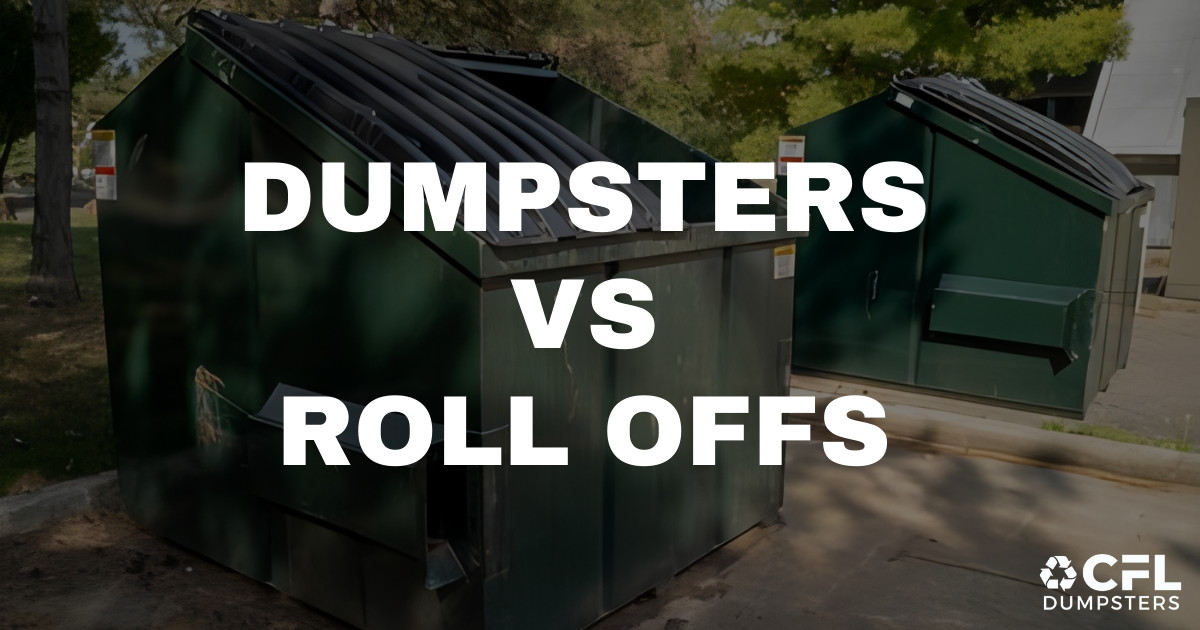 We all know how a dumpster looks like, but one of the most common questions I get is "Luis, can you tell me what a roll off dumpster is?"
Opposed to regular dumpsters, roll-offs are rectangular; they have no lids, no wheels, and they are used for disposing of specific kinds of debris. Roll-offs are used for short-term projects, where dumpsters are used as a comprehensive multi-year solution.
What Can You Put In a Roll-off Dumpster?
Many states and cities have their own regulations that dictate what we can or can't put in roll-off dumpsters. In general, you don't want to dispose hazardous material such as car batteries, paint, ink, epoxy, or glue.
The rule of thumb is to not dispose of anything that could harm humans or animals. Or items that could permanently damage the dumpster or alter its appearance.
Before renting a roll-off dumpster, ask the company for a list of what you're allowed to dispose of. If you have items to throw away that are not on the list, find out what the dumpster removal company charges for hauling them.
And if it's too expensive, contact the city to arrange for a collection. Or see if you can recycle some items, such as car batteries, at your local car parts shop.
What Can't You Put In a Commercial Dumpster?
The guidelines and regulations are somewhat similar regarding what you can or can't dump in commercial and roll-off dumpsters. In both, you are not allowed to place hazardous materials of any kind. If you do so, you'll get fined.
However, with commercial dumpsters, the list of the stuff you can't throw away is much longer! You can get rid of many materials in a roll-off that are not allowed in commercial dumpsters, including construction debris, furniture, concrete, dirt, or siding.
I have created a list of common and uncommon things you can't throw away in the trash.
I bet that some of the items will surprise you!


Prescription drugs


Mercury thermometers


Rechargeable batteries


Lighter fluid


Unbroken Fluorescent light bulbs


All types of paint


Lawn chemicals


Motor oil


Liquid Laundry detergent


Food Garbage


Tires


Unused fireworks


Smoke detectors


Needles


Hot oil


Unused matches


Power Tools with batteries


Intact Swing sets


Old Flags (United States Flag Code dictates that flags must be disposed in a dignified way. You should burn and burry them.)


Barrels with liquid inside


Kitchen appliances that hold liquid or freon


Mothballs (dispose them at a hazardous waste facility)


Asbestos


All other hazardous items and materials




4 Scenarios You Need a Roll-off Dumpster


You are moving
Changing houses can be very stressful on its own. There are literally dozens of things to arrange and tasks to complete. It can be overwhelming. But one of the joys I experienced when I was moving is the freedom to throw aways stuff and make space for new items and memories.
A small roll-off dumpster is ideal because if you're like most of us, you probably have a ton of stuff you don't need and old items that can be replaced.
And if a roll-off dumpster is too big or too inconvenient for you, you can always rent a Bagster. They won't fit as much as a dumpster will, but they are ideal for minor projects with minimum waste.


You are remodeling
Most people who start a remodeling project ( myself included) underestimate the amount of debris they'll need to get rid of. And even a fifteen-yard dumpster can fill up pretty quickly. If you consider renting one, choose a bigger size than you you think you'll need.
Financially speaking, it won't make a big difference because the price increase is not that high. But it will give you peace of mind, knowing you don't have to stress about running out of dumpster space.


When a new baby is on its way
If this is your case, congratulations! Having a new member in your family is an exciting (and sleepless) time…
These little creatures don't need much space, but it's us (the parents) that insist on buying an excess of baby stuff. And most parents want a complete baby room before the birth of their child.
Of course, this means extra space. I always suggest having a centralized place to dump all the items you don't want to keep when cleaning or renovating. Depending on the amount of debris you want to dispose of, a dumpster may or may not be the best option.
And if you have little stuff, consider buying a Bagster or using regular trash bags. Just beware of the items you're allowed to dispose and avoid fines.


You are spring cleaning or cleaning out your Garage
Spring cleaning or garage clean-out projects are very similar to the ones I described above. Before starting, estimate how much trash you will dispose of and see if a dumpster is right for you.
If you want a dumpster but you're unsure about the size, feel free to contact us and ask us anything. We are here to help!


What Are Front Load Dumpsters?
Front-load dumpsters is simply a different name to describe regular dumpsters. They are square-shaped and smaller than roll-off dumpsters. Standard sizes include 2, 4, 6, and 8-yards.
They are primarily used for commercial purposes, and you find them outside restaurants, apartment complexes, schools, and hotels. They are permanent waste disposals, recognized by their polyethylene lid on the top.
It is not common to rent front-load dumpsters for short periods. Because these dumpsters are used as long-term solutions and not for short projects—usually multi-year periods.
Their pricing depends on how often they require emptying.
The added benefit front load dumpsters offer is, protection against sun, rain, and snow, including protection against pests and odors.
As you've probably noticed, they are very different compared to roll-off dumpsters.
How Much Does a Roll-off Dumpster Cost to Rent?
In the US, the average cost of a dumpster rental is $500, and prices can go as high as $1200.
More than a dozen factors can lower or raise the price of a rental dumpster. (Dumpster Fees and charges To Avoid). If you're not cautius, you might pay hundreds of dollars extra for no good reason.
Bellow, I've listed five of the most important factors that immediately and drastically affect what you'll pay when you rent a dumpster:


Location
Always opt for local companies that are close to you because many variables can contribute and affect pricing. Including fuel charges, local disposal fees, driving time, or if you're located on or off the main road…
In general, companies charge between 6%-9% extra of the total bill for travel costs.


Size
Naturally, the size of the dumpster influences the total price. Look at the table below for more information


Rental period
The standard rental period is between 5 to 10 days. The longer you keep the dumpster on-site, the more it cost. But if you need a dumpster for longer or just for a couple of days, contact us here, CONTACT US and will definitively find something that fits your needs!


Debris type
The type of trash directly contributes and affects pricing. The dumpster rental company must dispose different types of debris to different facilities and landfills.
Also, communicate with the company if you want to dispose of concrete, shingles, or other heavy debris because prices will vary.


Total weight
Landfills charge the dumpster company a fixed amount per tonnage (one ton equals 2,000 pounds). And with each dumpster, there comes a weight limit. If you exceed it, you will have to pay a fine to the company.


Determine the Roll-off Dumpster Size You Need
Estimate the amount of debris you want to dispose
You might not know what dumpster size you need or if a dumpster is the right solution for you. That's why I've created a table to help you decide.
Here I summarize all the roll-off dumpster sizes and offers we currently have.
15 Yard Roll-Off Dumpster Flat Rate, $389


22 x 7.5 x 4.5


3,000-6,000 pounds, 3.5 cents each pound over 6,000


10 day rental


20 Yard Roll-Off Dumpster Flat Rate, $400


22 x 7.5 x 4.5


Pounds: 3,000-6,000 pounds, 3.5 cents each pound over 6,000


10 day rental


20 Yard Roll-Off Dumpster Flat Rate Swapout, $400


22 x 7.5 x 4.5


Pounds: 3,000-6,000 pounds, 3.5 cents each pound over 6,000


10 days


Haul away the full dumpster and leave an empty one


20 Yard Dumpster 1- 3 Day Special, $389


22 x 7.5 x 4.5


Pounds: 3,000-6,000 pounds, 3.5 cents each pound over 6,000


3 day rental, $85 on the 4 th day and then $15 each day after


30 Yard Roll-Off Dumpster Flat Rate, $500


22 x 7.5 x 6


Pounds: 6,000-8,000, 3.5 cents each pound over 8,000


10 day rental


40 Yard Roll-Off Dumpster Flat Rate, $600


22 x 7.5 x 8


Pounds: 10,000-13,000, 3.5 cents each pound over 8,000


10 day rental


Feel free to contact us if you have questions or if you want to rent a dumpster from us.