Construction Dumpster Rental

Construction Dumpster

Local Construction Roll-Off Dumpster Rentals Near Me – Construction Dumpsters 20 and 30 Yd Dumpsters

Construction Dumpster Rentals - Local - 20 Yard - Construction, roofing, remodeling, drywall, carpentry, flooring, stucco and more.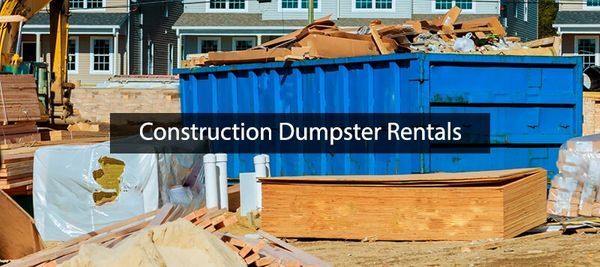 At CFL Dumpsters, we offer Construction Dumpster Rentals and roll off rentals in Tampa, Florida as well as surrounding areas. We can handle your commercial and Industrial dumpster rental needs. We have multiple sizes for construction use and they include: our 20 yard and 30 cubic yard construction dumpsters.

When you need a construction dumpster rental, our 20 yard dumpster is our most popular dumpster rental. Our 20 yard dumpsters can be used as a roofing dumpster, stucco repair dumpster, dry wall dumpster and more. Are you looking for a long term roll off for your business or warehouse? We have you covered! We have long term dumpster rentals available for your business or warehouse at competitive rates and with fast and efficient service. We offer 20 yard containers to be used as a "yard can" where the roll off dumpster can be used to dispose of your remodeling waste material, air conditioning waste, metal or steel, demolition debris, landscape debris, tree debris and more. We also rent dumpsters to local businesses, those who rent properties, real estate investors, landlords, general contractors, renovation companies, home developers, as well as a wide variety of other contractors and related industry professionals.

We offer discounts on government and corporate accounts.

CFL Dumpsters prides itself on dumpster rental prices that are much more competitive than the rates listed above. We are a licensed and insured local dumpster rental company that services all cities in Hillsborough county, Florida, such as: Tampa, Brandon, Ruskin, Seffner, Valrico, Plant City, Gibsonton, Valrico, Dover, Clair Mel, Ybor city, South Tampa, Carrollwood, Lutz, Riverview, and more.

[email protected]

Contact us for competitive long term rates.


Construction site roll off dumpster rental costs.

There are multiple factors that affect pricing, and that you should consider before renting a local roll-off dumpster, for Commercial construction and/or industrial jobs. Some of the main factors to consider include:


- Type of debris you will be disposing

- How much or the volume of debris you will be disposing

- How long you will have the dumpster rental

- Availability of the size dumpster you will need

- Price per pull

- Whether this will be a long term or short term rental

- Scheduling of service times and frequency of pulls


Call CFL Dumpsters in Brandon; we can offer pricing and dumpster rental rates and service that can save your construction company money and time.

813-997-2898

How do our construction dumpster rental costs differ?

CFL dumpsters discloses our roll off dumpster rental prices up front. You won't be subject to tipping fees or hidden charges on your credit card after the initial rental. All of our roll off dumpster rental pricing is in our dumpster rental agreement and explained to you when you schedule service.