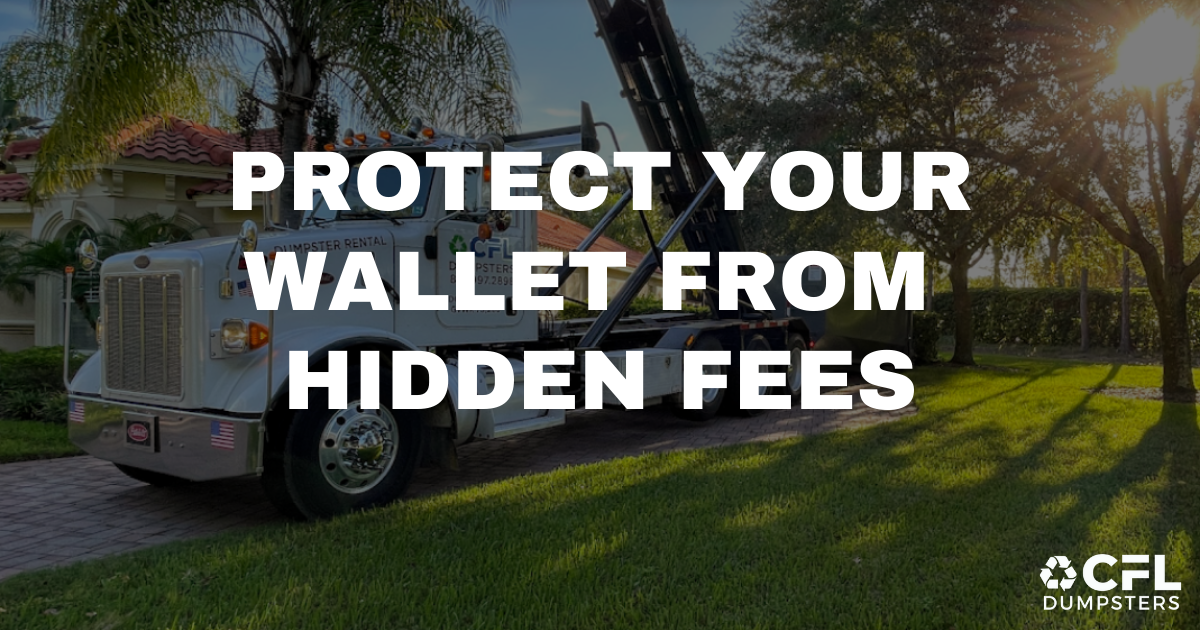 You might think that renting a dumpster is a straightforward task. But in reality, there are more than a dozen obvious and not so obvious fees that you must know about. Bellow, I list the three (and most important) steps towards protecting yourself against unwanted charges.
To avoid paying extra fees:


Ask for a flat rate.


Thoroughly review the agreement before signing to protect yourself from hidden dumpster costs.


Be cautious because there are 18 different fees, and dumpster rental companies can't include them all in their initial pricing


At CFL Dumpsters, we value transparency. That's why I listed below all possible fees you may encounter when renting a dumpster. Follow this guide, and you can save hundreds of dollars and tons of headaches!
But before we begin, I want to share how to avoid most extra fees.
Avoid (Most) Fees: Ask For a Flat Rate Price
A flat rate means that you'll get charged a fixed price. Additional weight or debris volume is included in the price when you rent a dumpster. And when renting a dumpster, a flat rate will protect you from most added charges.
As I mentioned, in most cases, fueling costs, delivery, pickup, and tax are all included in the price. But you might get charged extra for additional cargo. Ask the dumpster company for more details on added tonnage costs.
On the other hand, a variable rate is the exact opposite. The final price depends on the fuel cost, delivery, pickup, taxes, administrative and more. Variable-rate is harder to determine, but it could save you money. You pay what you use, and this type of deal can be very interesting with small amounts of debris.
During initial contact, ask the dumpster rental company the following questions:


First, ask what the total price will be for the dumpster of your choice. Is this a fixed fee, or do they use variable rates to determine the total cost?


Next, ask them if there are additional travel or fuel charges.


If they will do the delivery or if they will broker out.


If they charge extra for pickup and delivery.


A list of items you're allowed to put in the dumpster


What are the overweight charges are.


The daily late fee (how much extra you have to pay for every extra day you keep the dumpster).


If they charge long-distance fees or other fees, you should know about (see the list below)


Proceed with booking a dumpster, only if you get clear answers from the rental company.
Let's now move on with the list.
1) Protect Yourself: Dumpster Broker Hidden Fees
Are you browsing dumpsters online? Be careful because you might get overcharged by dumpster broker companies.
Brokers act as the middleman between the client and the company that delivers the service. Most charge between 10%-20% on top of the original price. But of course, the client never knows that.
A broker company has no equipment. They have only a call center which is sometimes based outside the US. With SEO tactics and paid advertisements, brokers manage to rank high on Google. They contact local dumpster rental companies and set up a contract which states that the dumpster rental can't disclose their original pricing to the customer. Plus they must make all communications with the client through the broker.
To be fair, this is actually a good deal for dumpster rental companies because they get qualified leads and charge the same amount for their services.
The only difference is that the customer pays more…
We already covered higher prices, but there are more problems you may face when using a broker, including:
Brokers could deliver poor service
Dumpster brokers are not bad people, and there are some situations where you want to use one. I'll cover those later.
However, communication can suffer, as is often the case when third parties act as the middleman.
Important information might get lost. And certain guidelines or restrictions might not even get communicated to the client! And if something goes wrong, can you imagine who will have to sort it out? You! And that almost always means that you'll have to pay more…
You don't know with whom the broker works with
When you deal with a dumpster broker, you never know which company is going to serve you. That means if you could get a five-star company or a one-star company. Most brokers don't care who they'll send because they're interested in their commission.
Spot all brokers that overcharge in three easy steps
A) The first thing you want to do is to check on Google for verified reviews. Happy customers are a great indication and a valuable trust sign.
B) Next, find the address that's listed on their Google My Business page or their website and browse for pictures. The goal is to find proof that it's a real company. CFL Dumpsters Google My Business
If you can't find anything, search on social media (Facebook, LinkedIn, etc.) Most reputable companies have at least a Facebook page with pictures and client reviews.
C) Lastly, look if the company has its own dumpsters and trucks... And if they use their logo on them. For example, at CFL Dumpsters, we use our company's logo on almost all our dumpsters and vehicles.
If, after your research, you can't find legit proof. Then you're probably dealing with a broker and not with a local dumpster rental company. And it's safe to say that you will pay more than the average price.
How using a broker could benefit you
"Wait, what?" Is it possible to benefit from a broker?
Well, yes. Sometimes, dealing with a broker can be interesting.
Suppose you live in a place with no local dumpster rental companies. In that case, you will practically be forced to work with a broker unless you bring in a dumpster rental from a neighboring town. Just make sure not to pay over 10%-20% of the average dumpster rental fee if you opt for a broker.
But regardless if you're using a broker or a good ol' local dumpster company, always ask for more information on the following fees.
2) Damage Waiver Fees (Average Cost: $500-$2000)
At first, dumpsters may seem indestructible. But there are ways to damage them severely accidentally. This can mean several hundreds of dollars in cost for you.
Let's say you use debris that is not suitable for that dumpster type, and you add too much weight. Heavy materials like asphalt or concrete can damage the dumpster and cause the sides to bend. And if the latch breaks, the waste management company won't be able to load it on the truck.
But that's not all.
Because a 15 yard dumpster filled with asphalt or concrete will weight over 20 tons! No dumpster rental company can haul that much weight at once.
The solution?
Unload and distribute the debris in smaller dumpsters, but...
If you can't do it yourself, you must hire a skid loader or pay extra for labor. In both cases, you will spend more money than you initially intended to.
The second way you can damage a dumpster is with a forklift.
I've seen people moving dumpsters with forklifts. That's NOT a good idea. The size of the dumpster or the skill of the driver doesn't matter…
"Why?"
Because it is extremely easy to bore a couple of holes into the side of the dumpster accidentally! If that happens, you will have to pay (on the cheap side) between $800-$7000 to weld and fix the holes. And if the waste management company demands a replacement, you will have to pay much more than that.
For example, an 8-yard dumpster could cost between $1500 and $2000.
3) Long Distance Fees (Average Cost: $90)
With a long-distance fee, otherwise known as a trip charge, you have to cover fuel costs. Most companies will charge between 6% to 15% of the total bill. But make sure to thoroughly read the agreement because some dumpster rentals may charge up to 35%!
Additionally, you'll have to pay extra if you ask the dumpster rental company to travel too far, if the location is off the main road, or if there are obstacles that prevent the driver from entering the site. The typical long-distance fee could be as high as $150.
4) Pick Up Fees (Average Cost: $50)
In most cases, the pickup fee is included in the price. But additional charges can apply if you want an early in the morning or late at night pickup. Always remember to ask the company if they charge extra for picking up the roll-off.
5) Disposal Fees (Average Cost: $20-$50)
It is essential only to throw away debris that the company allows.
Keep in mind that in the US, disposal rules might vary from state to state. Some items require additional processing or recycling, and other items are prohibited altogether. When in doubt, contact the dumpster rental company for further information.
Bellow, I list the most common items and their cost of processing.
Dumpster rental disposal fees of unwanted materials


Batteries: Average disposal fee $35 each


Fluorescent Bulbs: Average disposal fee $35 each


Propane Tanks: Average disposal fee $35 each


Medical Waste: Average disposal fee $55 each


Tires: Average disposal fee $30 each


Television sets: Average disposal fee $50 each


Computer monitors: Average disposal fee $50 each


Refrigerators (if not drained): Average disposal fee $40 each


Paint: Average disposal fee $20


Oil: Average disposal fee $20


Food Waste: Average disposal fee $35


Gasoline: Average disposal fee $50


Asbestos: Average disposal fee $50


Cleaning products: Average disposal fee $30 each


As you can see, prices depend on the type of debris, and they can rise dramatically if you're not cautious. If you have hazardous materials to dispose of. Call your local waste management department and find out where or if drop-off sites accept that type of debris.
And if you must dispose of large amounts of auto-oil, batteries, or old phones. Ask your local repair stores and auto parts stores if they accept those items for recycling.
6) Overfilling Fees (Average Cost: $40 to $100)
Have you noticed that most dumpers have a line on the side? It shows you it's safe to fill it up until that point. But if you surpass it for some reason, the company will not haul it coz of safety purposes. In that case, you must either schedule another dumpster or ask for a dump return.
Both services cost you extra money. To avoid overfilling fees, fill the dumpster in a specific way.
The best way to load up a dumpster is to pick a corner and start with the bulkiest and largest items. Fill it up and work your way toward the other end of the dumpster. Try to stack everything without leaving empty spaces in between. Additionally, break as many items as possible and ensure nothing sticks out from the sides or over the top.
7) Overload Fees (Average Cost: $40 to $100 Per Ton)
You get charged overload fees for each additional ton you add to the dumpster. Most dumpster rentals include a specific weight limit that you should not surpass. If you're unsure how heavy your debris is, call the company and ask for advice.
Keep in mind that you must cover the dumpster if it's going to rain or snow. Because in both cases, weight can increase.
8) Daily Late Fees (Average Cost: $7 to $20 Per Day)
Otherwise known as extension fees. The dumpster company will charge for each additional day you keep the dumpster on location. If you're working on a project that you suspect it will last longer than expected. Contact the company and ask how much they'll charge for the additional days.
Also, mark the pickup date in your calendar so that you won't get confronted with extra charges such as wait fees.
9) Wait Fees (Average Cost: $60 Per Half Hour)
If you let the driver wait, you will get charged.
Suppose the driver arrives and you still have obstacles in the delivery location. If he has to wait a few minutes, that shouldn't be a problem. But after the first ten minutes have passed, some companies charge between $2-$4 per minute. Others charge per hour.
10) Dry Run fees (Average Cost: $150)
If a delivery or pickup appointment has been scheduled, but the driver cannot access your location, you will get charged. Of course, if it's the driver's mistake, you won't pay anything. But if there are large obstacles, low-hanging tree branches, or something else that blocks your property, the company will charge you for the wasted time.
Before you order a dumpster, ensure that the area is obstacle-free. The truck needs about 60 feet in length and 11 feet in width to operate. And a minimum of 23 feet of overhead clearance to roll off the dumpster.
11) Clean-Out Fees (Average Cost: 400$)
You're not allowed to throw paint boating or similar liquids in a rented dumpster. If the company needs to clean the dumpster from hazardous chemicals, they will charge you a hefty sum. In this article, I've listed the most common materials you can throw in a dumpster. Please read it to protect yourself (and your wallet) from unnecessary costs!
12) Cancelation Fees (Average Cost: $25 Day Before, $150 the Same Day)
As with most services, if you cancel on the last-minute, charges may apply. When you're about to rent a dumpster, ask for the company's cancelation policy and what they charge.
Some companies allow for free cancelations just 24 hours after you've placed your order. They also might have a short notice cancellation fee that is even higher than the normal one. And if the driver is already on route, you might pay up to $200 for nothing!
13) Tow Fees (Average Cost: $100)
Most tow companies charge between $50 - $125 for a five or ten-mile local tow in the US. Total fees may apply if you place the dumpster in a public area without a permit. If the dumpster gets towed away, you must handle the charges. Also, if the truck gets stuck on your property, you will have to pay towing fees.
Lastly, you will also get charged for towing fees if the dumpster gets stuck in the ground while you're filling it up.
14) Seasonal fees
Seasonal fees apply when harsh weather takes place. Those extra charges deviate from your standard basic price during certain times of the year. For example, do you live in a remote location? Then you could pay extra for delivery during the winter months.
15) Concrete fees
Do you want to dump concrete? You must communicate this to the dumpster company before booking. Disposing concrete is more expensive than disposing of general waste.
Plus, you probably need a dumpster specifically for concrete. You want to keep concrete separate from other types of debris. Lastly, break up concrete into sizeable pieces and don't try to dispose wet concrete because it's not allowed.
Follow these guidelines and protect yourself against unnecessary overage charges.
This concludes the long list of fees and what to watch out for. I hope you enjoyed it!And in the case you're looking for dumpster I've got your back! Give us a try, and you'll never again think about another dumpster company – guaranteed! Dumpster Pricing
CFL Dumpsters
813-997-2898
1008 W Brandon Blvd
Brandon, Florida 33511