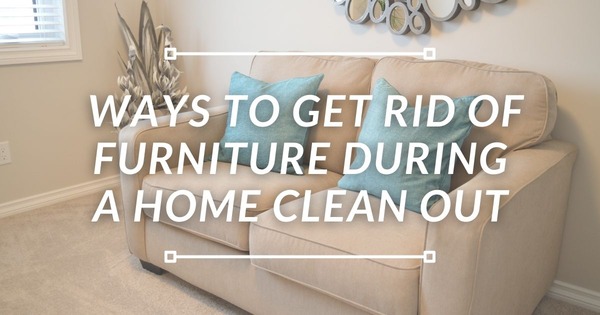 Are you tired of Clutter? Do you want to make some changes in your home? Unwanted furniture is one of the biggest obstacles to achieving a clean, organized living space. Whether it's an old couch, loveseat or wicker chair that has seen better days or a dining table that no longer fits your style, removing furniture can be daunting.

However, with the right approach, it can be easier than you think! We will help you with ideas to get rid of your old furniture by providing 8- eight practical ways to get rid of furniture during a home cleanout.
How To Rent Our Dumpsters In 4 Easy Steps
1. Schedule Your Dumpster Rental
Give us a call today and we'll find the right sized dumpster rental for your project at an affordable price and schedule your rental.
2. Prepare for Dumpster Delivery
Our dumpster rental professionals will deliver your dumpster at a time that works for your project. Please ensure the drop-off area is clear.
3. Fill Up Your Dumpster
Fill up your dumpster with the acceptable waste. Not sure if you can put a particular item in your roll-off container? Give us a call to find out what's accepted in your area.
4. Schedule Your Pickup
When you're done using your dumpster, give us a quick call or text, and we will come and pick up the dumpster. Last, But not least please leave us a review!
8 Ways to get rid of your Old Furniture during a home cleanout.
1. Sell Your Furniture
If your furniture is in good condition, consider selling it. You can list it on online platforms such as Craigslist, Facebook Marketplace, or OfferUp. You can also have a yard sale or sell it to a consignment store. This is a great option if you want to earn some extra cash and have furniture that's still in good condition. The proceeds can help pay for a portion of any new furniture you purchase, or other DIY projects you may have around the house.
2. Donate Your Furniture
If your furniture is still in decent condition but you don't want to go through the hassle of selling it, consider donating it. There are many charities and non-profit organizations that accept furniture donations, such as
Goodwill
,
The Salvation Army
, and
Habitat for Humanity
. Also check with your local churches and Drug and alcohol recovery centers, they are always in need of good used items to help folks get back on their feet. Donating your furniture is not only a great way to give back to the community, but it's also environmentally friendly since it reduces waste.
3. Give Furniture to Friends and Family
If you have friends or family members who are in need of furniture, consider giving it to them. This is a great way to ensure that your furniture is going to someone you know and trust. It's also a good way to save money since you won't have to pay for hauling or disposal fees. Be sure the old furniture is in good shape and doesnt have any offensive smells before you gift it to family or friends.
4. Rent a Dumpster
If you have a lot of furniture to get rid of,
renting a dumpster
is a great option. This allows you to dispose of all your unwanted furniture at once. CFL Dumpsters provides affordable and reliable
dumpster rental services
. Our dumpsters come in various sizes to meet your needs, and we'll deliver and pick it up at your convenience.
5. Hire a Junk Removal Service
If you don't want to deal with the hassle of disposing of your furniture yourself, consider hiring a junk removal service. They will come to your home, load up your furniture, and dispose of it properly. CFL Dumpsters provides junk dumpster services at an affordable price. We'll drop a dumpster at your location, you fill it and we haul it. if you are looking for full service junk removal check local listings, but it does cost something to have them come out and remove your unwanted furniture.
6. Check with Your Local Municipality
Before you throw your furniture away, check with your local municipality to see if they offer bulk waste pickup. Many cities offer this service a few times a year. This is a great option if you only have a few pieces of furniture to dispose of and have limited funds. If you own a home, bring your tax certificate to the local dump and it may be free to dump your old furniture.
7. Recycle Your Furniture
If your furniture is made of metal or wood, consider recycling it. Many recycling centers accept furniture made of these materials. This is a great way to reduce waste and help the environment. If you have metal furniture you may even be able to get paid for your recycling efforts.
8. Repurpose Your Furniture
If you're feeling creative, consider repurposing your furniture. For example, you can turn an old dresser into a bookshelf or a coffee table into a bench. This is a great way to save money and give your furniture a new life. A little paint, some hand tools and imagination can go a long way in re-purposing old furniture that still has "good bones"
Getting rid of unwanted furniture doesn't have to be a difficult task. With these eight effective methods of disposing of your old furniture you should make a daunting task and easy one.
Give us a call for dumpster pricing or availability on one of our dumpsters.
Roll Off Dumpster Rentals