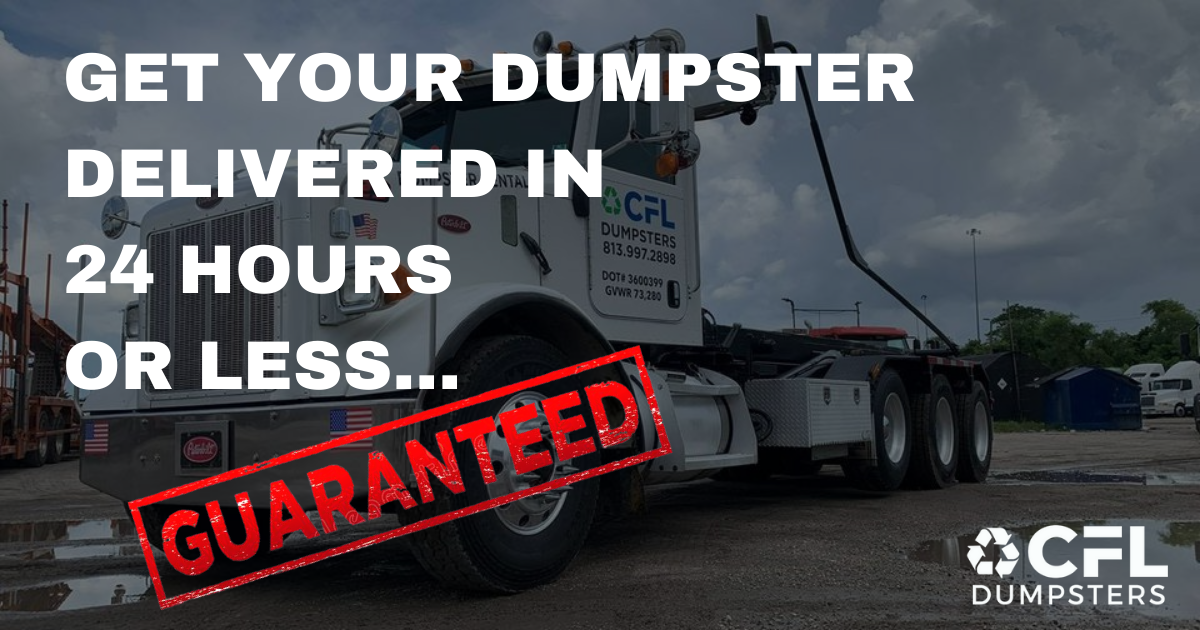 Emergency Dumpster Rental Services 24/7
Get your Emergency dumpster delivered in 24 hours or less… Guaranteed!


Look at what our Dumpster Rental Customers have to say:
I called in the early afternoon and he had a dumpster at my location inside of 2 hours!
~ Steve Bredall
Great Service and competitive Price!
~ August Walley
I was highly impressed with CFL Dumpsters!
~ Justin Abston


Emergency Dumptser Rental Services
So, you need an emergency dumpster rental. We can service you after hours 24/7, however we do charge for our emergent services. We work with local business owners, remediation companies, Commercial Brokers, Water Restoration companies, Insurance companies and many more.
But, you probably haven't thought about what type of container you need? The ideal size and delivery time? Or how much the fees are?
CFL Dumpsters
, Can help you decide and guide you in the right direction to get the right size Dumpster as well as the best value!
CFL Dumpsters Offers every client:


Trust: Enjoy our undivided attention from our family-owned business!


Variety: Pick the ideal dumpster for your project — sizes range from 15 to 40 yards!


Speed: Get your dumpster in 24 hours or less… Guaranteed!


Attention: Get a live person on the phone every time you call!




Our 20, 30 and 40 yard dumpster pricing is competitive and you get a good value for your money.
Did you know that 25% of homeowners that own a garage can't park their car because it's filled with old stuff? Or that half of Americans admit they have a severe problem with clutter? The truth is that we all have some extra junk lying around.
It doesn't matter if you are a business, a contractor, or a regular guy or gal trying to free up some space… With CFL Dumpsters, you'll get EXACTLY the dumpster rental you need at EXACTLY the right price.
Get Your ideal roll off dumpster rental in 3 easy steps:
Step 1: Determine the type of waste you want to dispose of and the size of the dumpster you will need to dispose of.
Different debris types require different dumpsters types. We have a variety of different sized dumpsters from 15 yard dumpsters all the way up to 40 yard dumpsters. Depending on the size area you have we can help you decide on what size dumpster rental is appropriate.
Step 2: Roughly estimate the amount of waste that will go in the dumpster.
If you communicate the average amount of waste, I can help you choose the right dumpster size.
Step 3: Measure and clear your Dumpster delivery spot.
About 60 feet in length and 11 feet in width. That's the space our trucks need to operate to have enough "swing room" to operate our truck to drop off and pick up the Dumpster rental.
We will do the rest!
Emergency Dumpster Rental Sizes and pricing, in Brandon FL (Hillsborough)
Below, you'll find an overview of the roll-off dumpster sizes we offer and our emergency dumpster rental approximate pricing.
15 Yard Roll-Off Dumpster Rental - Emergency service


16 x 7.5 x 4.5


3,000-6,000 pounds


$450 - $750




20 Yard Roll-Off Dumpster Rental - Emergency Service


22 x 7.5 x 4.5


Pounds: 3,000-6,000 pounds


$475 - $750




30 Yard Roll-Off Dumpster Rental - Emergency Service


22 x 7.5 x 6


Pounds: 6000-10,000


$650 - $850




40 Yard Roll-Off Dumpster Rental - Emergency Service


22 x 7.5 x 8


Pounds: 8,000 - 10,000


$750 - $1050




Why Hire a Roll-off Dumpster
Your house and neighborhood will get greener and cleaner!
You might think that dumpster rentals are good only for home remodeling projects or construction sites. However, roll-off dumpsters are ideal for getting rid of those "very important I can't live without" items you tucked away ages ago.
Besides, there are many cases where a dumpster can be a lifesaver. For example, when spring cleaning, when you clean out your garage, when you need space for a new child, or when you're moving…
Instantly reduce the stress and worry that usually comes with these types of projects. Having a dumpster rental will make those tasks much more fun and straightforward! Because now you have the physical and mental space to focus on yourself, your family, and your future.
A variety of Dumpster rental sizes and flexible pickup options



Best dumpster size for: Dirt -15 or 20 yards.

Best dumpster size for: Construction -30 or 40 yards.

Best dumpster size for: Concrete debris -20 yards.

Best dumpster size for: Roofing jobs -20 yards.

Best dumpster size for: Big items -20 or 30 yards.

Best dumpster size for: Home cleanout -20 or 30 yards.

Best dumpster size for: Apartment complex -15 or 20 yards.

Best dumpster size for: Kitchen remodel -20 or 30 yards.

Best dumpster size for: Bathroom remodel -15 or 20 yards.





And if you don't need a Large dumpster or think you can't place it by the curb, consider our curbside pickup service.
Call us, and we'll immediately send our A-team to deliver a dumpster rental.

We Literally Take All Your Litter Away!
Whether you want to get rid of old appliances, sofas, beds, construction material, landscaping, or general junk… We'll take them all!
Roll Off Dumpster Rental FAQ's
How much space do I need for a dumpster rental?
Our dumpsters have about the same size as a minivan. Our smallest roll-off dumpster is 15 yards, and our biggest is 40 yards. They all are 22 ft long by 8.5 ft wide by 4.5 ft high. To place them safely, we need about 60 feet of length and 11 feet of width. The back of the truck must rise to roll off the dumpster. To do that, we need a minimum of 23 feet of overhead clearance.
Do I need a permit to have a dumpster in my driveway?
No, You only need a dumpster permit if you're going to place the dumpster on public property (think sidewalks, streets, etc.) Will you put the dumpster in a privately owned space or in your driveway? Then you do not require a permit.
Can a roll-off dumpster damage my concrete driveway?
At CFL Dumpsters, my team and I take great pride in our driveway protection systems. We always make sure to carefully and safely place the dumpsters at the desired location. One method we use to eliminate the risk of damage is by placing a protective buffer of strong plywood planks under the dumpster. This keeps your driveway safe and scratch-free! (We cannot see or predict any voids under your driveway, there is always a risk of a cave in if there are voids present. we are not liable for any damages to the driveway as our trucks are large and heavy.)
Will the dumpster fit in my driveway?
Most driveways have enough room for our dumpsters. They are 8.5 ft wide and 22 ft long.
And our 15-yard dumpster is about the size of a minivan. 16 ft long x 8.5 ft wide and 4 ft tall.
Make sure that there is nothing in or around the driveway when the dumpster arrives. This is for your own convenience. The area must be clear of all debris and obstacles and make sure you park your car somewhere safe. Also ensure that trees or low-hanging branches do not hinder the driver's vision.
How fast will my Emergency dumpster arrive?
In one word? Fast!! Upon ordering your dumpster rental, you will get a delivery date and time. But we almost always deliver our dumpsters in 24 hours or less! In emergent situatuions typcially we can be onsite within 2-6 hours to help you, this depends on availability of staff and trucks. We do our best to accomodate your emergent situation when you order a dumpster rental.
What items CAN I put in a roll-off dumpster?
There are guidelines for what you can put in a dumpster rental. To help you, I have created a list of common types of debris that you can safely throw away in our dumpsters.


General trash


Electronics


Construction debris


Dirt


Siding


Stone


Bricks


Metal


Asphalt


Concrete


Branches and leaves


Furniture (metal, wooden, PVC)


Carpeting and flooring


Paper


Mattresses


Packaging


Cabinetry


Toys


Cloth


Hardware and fixtures




What items CAN'T go in a roll-off dumpster?
No hazardous materials or biomedical waste are allowed, including:


Batteries


Food garbage or waste


Tires


Paint


lacquer containers


Hot water tanks


Hazardous waste


Bio-waste


Medical waste


Oil or liquids
engines




You can throw most household appliances in a dumpster. However you cannot throw away freon holding appliances, Think of dryers, AC units, or refrigerators. It's best to get in touch with us before throwing away any appliances.


Book today the roll off dumpster of your choice. Do you have questions? Feel free to ask us anything CONTACT US
If you do not need Emergency dumpster rental services, please see our regular dumpter rental Pricing Roll off Dumpster rentals , however we only offer regualr service during normal business hours on all non-emergency dumpster services.