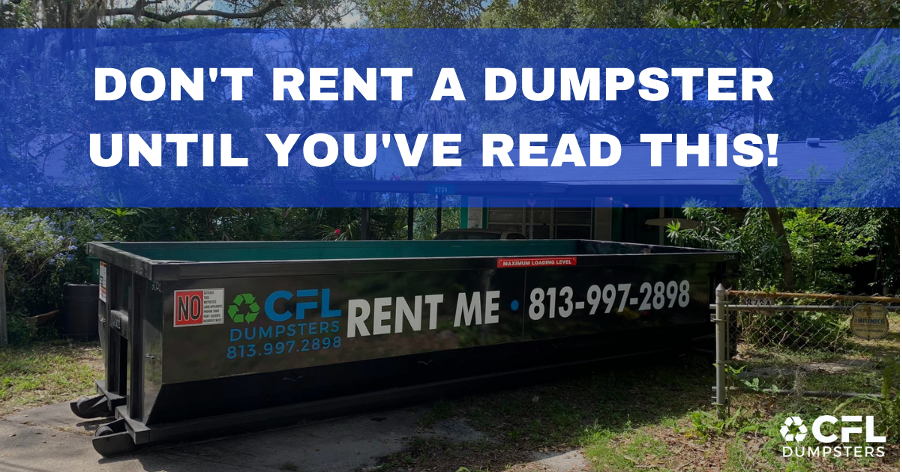 Is Renting a Dumpster Worth It? (10 Pros and Cons)
So, you're looking to rent a dumpster. Maybe you've got a lot of stuff to get rid of. Or perhaps you have a big project coming up. Today we will explore all the pros and cons a dumpster rental can offer.
Renting a dumpster is worth it for long-term projects and when you have a lot of waste to dispose. You know the cost upfront. It's cheaper than hiring a junk removal company. And you don't need a haul the trash to the landfill yourself.
Keep reading because below, I provide more details that will help you decide if renting a dumpster is the right solution for you.
5 Reasons Not to Rent a Dumpster
1. You Are Physically Not Fit
When you rent a dumpster, you must fill it up on your own. That means that if you can't lift heavy things or suffer from back pain, renting a dumpster is probably not for you.
If your health limits you, ask friends and family to help or hire someone to do the job for you. If you need to hire extra manpower, recalculate your cost and see if renting a dumpster is still financially attractive.
2. Not Enough Waste
Do you have little trash to get rid of? Then consider hauling it yourself. The best way to do that is with a pickup truck or a similar vehicle that can bear the weight.
If you decide to do the job alone, you must first determine how many times you'll need to drive back and forth. Or if it makes more sense to rent a dumpster instead.
Here is what to do:
First, you what to know how much weight your vehicle can carry. For example, a half-ton pickup can hold up to 3000 lbs. of payload.
Next, determine how many "vehicles" a dumpster can hold. The smallest dumpsters sizes are 4-yards, 6-yards, 10-yards and, 15-yards.
The smallest CFL Dumpsters carries are 20 yard and the largest are 40 yard.

• A 4-yard dumpster is equal to the payload of two pickup trucks.

• A 6-yard dumpster is equal to the payload of three pickup trucks.

• A 10-yard dumpster is equal to the payload of four pickup trucks.

• A 15-yard dumpster is equal to the payload of six pickup trucks.

If you have just a few items to throw out, then you probably don't need a dumpster rental.
3. You Need Permanent Waste Removal
Some businesses, including restaurants, hotels, or office buildings, produce large amounts of waste on a daily basis. For them, a dumpster rental doesn't make financial sense. And they are better off using a commercial dumpster. For most small businesses (less than 2500 ft.²), a 2-yard dumpster will do the job just fine.

4. You Could Face Hidden Fees
At CFL Dumpsters, we take hidden fees extremely seriously. Our contracts are easy to read, and we walk you through everything step by step.
Sadly, not all companies follow our policy. Therefore, I want to help protect you against unexpected charges.
Here's what to do:

• First, ask the company what the total price will be for the dumpster of your choice.

• Next, ask them if there are travel or fuel charges.

• If they charge for pickup and delivery.

• What the overweight charges are.

• The daily late fee (how much extra you have to pay for every extra day you keep the dumpster).

• If they charge long distance fees.

• The cost of the permit.

This was merely an overview… If you want to get the inside scoop on how to protect yourself against hidden dumpster fees (all 18 of them), then click here
5. You Have Hazardous Material to Dispose
If you want to eliminate hazardous materials, you must contact your city to figure out where to dispose of them. All explosive, corrosive, flammable, or poisonous materials are dangerous, and dumpster companies won't take them. If it's legal in your area, arrange for a curbside waste pickup or bring the material to a permanent waste collection facility.

5 Reasons to Rent a Dumpster
1. Flexibility
Are you renovating? Cleaning up the garage? Or did you finally decide to get rid of that extra junk you were holding on to for years? In my experience, big projects can take a long time…
Later contractor, the weather, or unexpected illness can significantly slow down the whole process and add days (or even weeks) to your timeline. And once you pick a date for a junk removal company to come and pick up your trash, it may be hard to reschedule it. And if it's last minute, they might charge extra for it.
The solution is to keep your roll-off dumpster on site. In that way, you retain control and flexibility. You can take your time to fill the container up, and if you must keep it for longer than expected, simply negotiate with the company a new deal that is financially interesting for both of you.
2. Cost-effectiveness of a Roll off dumpster rental
Opt for a dumpster rental instead of hiring a junk removal company if you want to save money. Because of the workforce these companies provide, their pricing is much higher than a dumpster rental company. Plus, most of them charge you by your trash volume rather than the time on site.
But if for some reason you're unable to lift heavy stuff, at CFL Dumpsters, we also provide curbside pickup. It's not as cheap as renting our dumpsters, but it will save your back. You can book our service Online or over the phone.

3. You stay in control when you rent a roll off dumpster
When cleaning or renovating, it is easy to accidentally throw away the wrong stuff. And in the case a loved one has passed away, throwing away the wrong items can be even more emotionally damaging.
The solution is simple, don't hire a moving company to grab and toss everything away. But use a dumpster. In that way, you monitor what goes where without stressing or checking what everyone is doing.
4. Leave nothing behind, get it all in the Dumpster
The added benefit you get when you rent a dumpster is that even if you discover more junk last minute, you can always throw them in the dumpster without stressing. And in most projects I've been to, there is almost always more stuff to get rid of.
On the other hand, if you find "hidden junk" after the removal company leaves, you have a problem…
"Why?"
Because if you can't get rid of it by yourself, you have to call them, schedule your appointment, and pay them again for their services.

5. Upfront Cost, No Hidden fees when you rent a roll off dumpster
When you hire a junk removal company, they may have to make multiple trips to remove all the junk. That means added costs for you.
When you rent a dumpster, you'll mostly want an all-inclusive price. In other words, you should not pay extra for fuel, taxes, delivery, or pickup fees. Keep in mind that some companies charge per ton or per space the debris takes up.
But when you rent a dumpster from CFL Dumpsters, you know the total cost from the start. No hidden charges and no extras.
Reserve a Roll off Dumpster Rental Now
Items You Can't Put In a Rented Roll Off Dumpster
There are some items you can't dispose in a roll-off dumpster. We already know you must avoid dangerous materials. But what are they exactly?
Prohibited Items List for a Roll off Dumpster Rental:
To help you out, We've created a list of the most common materials you should not toss in a dumpster:
• Paint

• lacquer containers

• Batteries

• Tires

• Hazardous waste

• Food waste or solid waste

• Medical waste

• Oil or any type of liquids
Items You Can Put In a Rented Dumpster
Luckily, you can safely toss away 90% of the items you come across. Here is the list of the most common ones:

• General trash

• Mattresses

• Packaging

• Paper

• Electronics

• Construction debris

• Dirt

• Siding

• Stone

• Metal

• Bricks

• Asphalt

• Concrete

• Branches and leaves

• Furniture (metal, wooden, PVC)

• Carpeting and flooring

• Cloth

• Cabinetry

• Toys

• Hardware and fixtures

By now, you should know if you need a dumpster for your project or if you should opt for something different. But if you do need a roll off dumpster, make sure to take advantage of our competitive prices!
Dumpster Rental Pricing or To Reserve Now