Dumpster Rental Riverview, Fl

Roll-off dumpsters provide a reliable, fast, and convenient means of getting rid of waste and debris. And at CFL Dumpsters, we have a wide range of roll-off rental dumpsters, available in different sizes. So, whether you are building a new home, cleaning your garage, de-cluttering your home or you are undertaking a small landscaping project in your home, we have the right roll-off dumpster for your needs.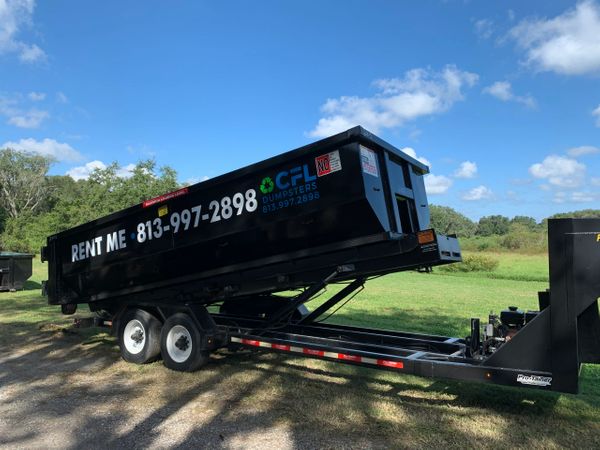 Roll off Rental Dumpsters
Our roll-off rental dumpsters are reasonably priced and delivered promptly. We are one of the leading companies when it comes to dumpster rental in Riverview FL.

Our roll-off dumpster rental services include: Roll-Off Construction Dumpster From large-scale commercial developments to small construction projects, we help contractors, homeowners, businesses, and property developers to organize and manage their job sites.

We offer dependable and affordable roll-off construction dumpsters, available in various sizes. Our roll-off construction dumpsters in Riverview are highly versatile. And this makes them perfect for almost all types of construction projects. Whether it's installing a new roof, heavy debris removal or demolition, we have the perfect dumpster for your needs.
What sets us apart?
What sets us apart from other service providers on the market is our prompt delivery and excellent customer service. Once you've finalized the rental process, we always make sure that we deliver the dumpster as soon as possible, to help you keep your job site clean and well-organized, thus eliminating any down-times or slow-downs. Renting our roll-off dumpsters Riverview provides the most cost-effective waste removal method from your site. And once the dumpster is full, we will then haul it away from your job site, which means you don't have to worry about how or where to dispose of the waste. As a result, we will save you time, effort and gas money. Whether you need a small 10-yard dumpster, a medium 20-yard dumpster or a large capacity 40- yard dumpster, we have them all.

At CFL Dumpsters, we know that construction waste disposal can prove to be an expensive, tedious and time-consuming process – especially if you are dealing with large amounts of debris.

The good news is, we are here to help. Our roll-off dumpsters can help you get rid of all construction waste and debris affordably, easily and conveniently.
Roll-Off Residential Dumpster
If you are planning to start a home project, you will need a means of getting rid of the clutter and junk as fast as possible. While you can use your pick-up truck if you have one, you will have to make endless trips to the landfills to get rid of the trash. Also, you will have to figure out where to dump some of the waste that cannot go into the landfills.

As you can see, it's can prove to be a hectic and stressful process, especially if you have never done it before. And this is where we come in. We can help you get rid of all the trash, junk, waste and debris, using our roll-off rental dumpsters Riverview, FL. And when you rent our roll-off dumpsters, they will be delivered straight to your home.


From there, you just need to fill it at your own pace. Once it's full, our team will come and collect the dumpster and get rid of the waste appropriately.

Whether you want to get rid of junk from your home or you are undertaking a home renovation, having a roll-off dumpster on your compound will help to streamline the process. You just need to fill it with the debris and we will come and collect it from your driveway. And in most cases, we take almost every type of junk coming from your home cleanouts.

At CFL Dumpsters, we are here to make debris and junk removal affordable, simple and highly convenient.

We also Offer Dumpster Rental in Brandon

Even if you are renting a roll-off dumpster the first time, we will make the process as simple and fast as possible, so that you can get started on your project right away.
Roll-Off Commercial Dumpster
Do you need a roll-off dumpster rental for your business? Well, we offer a vast selection of dumpster rentals in Riverview, L. We offer different dumpster sizes as well as weekly or monthly pickups, depending on a client's preferences. And whichever pick-up frequency or dumpster size that you choose, you can rest assured that you will enjoy flat rates, simple billing and unmatched customer service round the clock.
When you choose CFL Dumpsters for your commercial dumpster rental, we will work hard to keep your business running efficiently and cleanly.
So, why should you use our roll-off dumpster services and not the other options on the market?
Well, here are some reasons why you should consider us:
· Highly convenient:
Renting a roll-off dumpster with us is fast and simple. You simply need to get in touch with us, and we will help you choose the right size for your needs.
· Reliable:
When you
rent a dumpster
from us, you can expect careful and fast delivery. Also, the removal process is equally prompt and careful. So, besides delivering and removing the dumpster on time, we always ensure that we protect your property.
· Scalable:
At CFL Dumpsters, we offer a wide range of roll-off rental dumpsters, designed for businesses of all sizes. Our pick-ups are daily, weekly and monthly. So, you just need to choose your pickup based on your schedule
· Sustainable:
When we collect the dumpster from your premises, we don't just throw the trash haphazardly. Instead, we follow all waste removal and disposal guidelines. Also, we try to recycle as much waste as we can, to conserve the environment.
At CFL Dumpsters, we offer a vast selection of
commercial dumpster rentals in Riverview
, which can suit almost any type of business. Whether you need a dumpster for apartment buildings, small business, an auto repair shop, or restaurants and bars, we have something that will suit your needs and budget.
Contact Us Today (813) 997-2898
Whether you are a contractor, a homeowner, or a businessperson, a roll-off dumpster will provide you with an efficient, simple, and efficient means of handling cleanups and getting rid of the waste. And at CFL Dumpsters, we make the entire process as seamless as possible. We will deliver the container to your premises, you will fill it up and then we will collect it and haul away the trash. Regardless of your trash removal needs, we have the right roll-off rental dumpster for you.